Dental Crowns in Whitby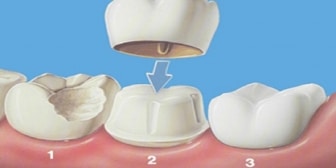 A dental crown is a type of oral fixture that is designed to cover the entire exterior of the tooth. This is done to serve as the natural structure of the tooth, typically in cases where the tooth has received significant damage or decay. At Whitby Smile Centre, we will be happy to help you out and discuss the procedures required for a dental crown and any alternatives that may be applicable in your situation.
The procedure of receiving a dental crown first involves our dentist in Whitby, Oshawa assessing the tooth to ensure that the remaining structure will be suitable to receive the new fixture. If you are a suitable candidate to proceed, your next appointment at Whitby Smile Centre will involve reducing 1-2 mm of the periphery of the tooth and then taking an impression which will be sent to a lab to create. After 5-7 business days for the lab to create the fixture, you will be able to come in for a second appointment to cement the dental crown.
A dental crown can be made of various materials depending on your situation. However, there are some features of cosmetic dentistry in Whitby that can be used in conjunction with a dental crown. A dental crown can be made from amalgam-free substances which can be tailored to more closely match the natural colouration of your teeth. That is not to say that there will be an exact match; even if the material matches when it is provided, it is unlikely that the colour will fade at the same rate. However, in any situation, the aesthetic appearance should be secondary to your oral health.
For more information on dental crowns, and what procedures may be suitable to you, feel free to contact Whitby Smile Centre today. Our office in Whitby, Ontario is here to provide you with information and services to make informed decisions on your oral health. Our clinic is located on Brock St. North, just south of Rossland and we are now accepting new patients in Whitby, Oshawa. We are also open on Saturdays to provide assistance outside the typical work week.