Solutions for Patients With Dental Anxiety in Whitby
Dental Freezing in Whitby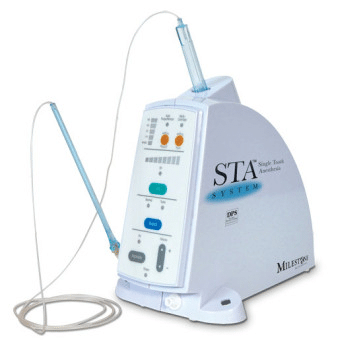 A common complaint that is given in the dental chair is that the patient hates needles. In his 1995 study "Needle Phobia: A Neglected Diagnosis," James Hamilton estimated that nearly 10% of adults suffer from a needle phobia. The risk of this phobia in regards to dental procedures is that this risks patients forgoing treatments that may require one.
However, in certain situations, there are alternatives available. At Whitby Smile Centre in Ontario, we use a device called The Wand® which is a computer controlled delivery system that delivers a freezing sensation without the use of a standard syringe.
A key difference between The Wand® system and a traditional syringe is that the visual look of The Wand® is designed to look like a pen. The Wand® also has sensors which assist the dentist with dosage and pressure. As such, the system helps with controlled local administration of the anaesthesia which is designed to reduce the chances of the numbness spreading throughout further areas of the mouth.
The ultimate goal of any dental treatment is for the preservation or restoration of your oral health. Especially for those seeking out kids dentistry in Whitby, Ontario, there are reasons a child may be afraid of going to the dentist. Even as adults, people may fear certain dental experiences and forgo treatment or visits because of aspects of dental procedures. If this is due to syringes, and items such as The Wand® can help with this, then you may want to ask your dentist in Whitby, Oshawa to see if they have alternatives available.
It is important to note that this does not mean that The Wand® is in any way superior to other tools or forms of dental procedures. It is meant to be an alternative and ideally encourage people to visit the dentists if they need. There will still be sensations felt in association with anaesthesia, and you will want to discuss with a medical professional to determine whether there are any aspects of the procedure that may be a concern to your health. Our clinic is located on Brock St. North, just south of Rossland and we are now accepting new patients in Whitby, Oshawa.
Nitrous Oxide in Whitby
Another solution to your dental anxiety and is Nitrous Oxide. Nitrous Oxide is just the scientific term for laughing gas. It is an effective anesthetic that is widely used in dentistry to help ease the patient and keep them relaxed during their visit to out Whitby dental office.
Nitrous Oxide is the right solution for you if:
You avoid going to the dentist due to nervousness or fear
Have difficulty getting numb through freezing
You have extremely sensitive teeth
Have a fear of needles, drill, or other treatments
How it works:
The gas is dispensed through a mask which is placed over the nose. It takes about 30 seconds to 5 minutes until it can come into effect and cause the patient to feel a pleasant level of sedation. Some patients may even experience numbness in the gums and cheeks. Our specially-trained dental team at Whitby Smile Centre will monitor you throughout the whole process, so there is nothing for you to worry about! The best part about Nitrous Oxide is that unlike IV or general anesthesia, the patient will almost always be able to get home on their own.
For any questions or concerns regarding Nitrous Oxide, feel free to contact Whitby Smile Centre for more information.