Dental Implants In Whitby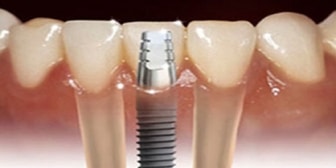 Some patients may be seeking the help of dental implants in Whitby, Ontario, for a missing tooth, but may not be aware of the procedure. At Whitby Smile Centre, we feel that making an informed decision on your oral health helps patients be knowledgeable about how certain factors can contribute to your overall wellbeing.
A dental implant is a treatment option that is used to replaced a missing tooth, or in some instances, multiple missing teeth. During this treatment, a titanium device similar to a metal screw will be surgically implanted into the bone in the area of the missing tooth. After the initial surgery, the patient will need a 4-6 month waiting period for a process knowns as osseo-integration. Osseo-integration is where the bone and implant begin to bond, which will help stabilize the dental implant and upcoming fixture.
If this integration is completed successfully, your following visit will entail getting sized for whatever dental fixture you have upcoming, such as a dental crown. After this, a lab will produce the crown typically within 7-10 business days. This length of time is determined by the lab and may be different in individual circumstances.
Depending on the case, a patient may be able to have different types of dental fixtures attached to the dental implant. For example, a dental crown may be screwed on or cemented on. Just like with any surgery, there is plenty to keep in mind for the procedure in order to ensure you know what is entailed. As such, not every patient is a candidate for dental implants. Our dentist in Whitby, Ontario has to consider the entire case before moving forward with the treatment. This includes reviewing the patient's health and dental history, study models, medication list, administer a blood test, x-rays, bone scans, and other possible procedures.
If you feel that you are experiencing a dental issue and may want the use of a dental implant to assist you, contact Whitby Smile Centre today or request an appointment online from our home page so we can discuss the procedure further with you. Our clinic is open on Saturdays and is located on Brock St. North, just south of Rossland and we are now accepting new patients in Whitby, Oshawa.